WELCOME!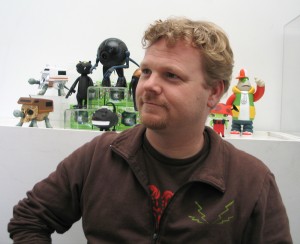 I am an independent creative brain and business consultant, with over a decade of experience developing successful consumer brands for emerging art and trend markets.
While working as the Chief Operations Officer of a small online electronics retailer in the late 1990s,  I helped conceive, develop and launch Kidrobot, one of the leading retailers in the worldwide Art Toy market.
In 2002 I co-founded STRANGEco, a premier Art Toy brand that has created some of the most innovative collectible vinyl toys with a literal "who's who" of contemporary art: Gary Baseman, Ron English, Shepard Fairey, Jeremy Fish, FriendsWithYou, James Jarvis, Todd Schorr, Jim Woodring and others. From its humble beginnings in my apartment in San Francisco's Mission District, STRANGEco grew into a multimillion dollar brand with a sales base of over 300 specialty retail stores worldwide.
I have also marshaled a network of like-minded creative businesses into a community called The Cultyard, which has developed special art and design pavilions within the New York Toy Fair, the San Diego Comic Con and the New York Comic Con.
I currently work with a variety of creative artist-based businesses, providing insight on brand building, sales & marketing, operations streamlining and product development . I also contribute regularly to a variety of art and design publications.
For the past year I have also been working with a cool organization called  Trade In Cool, where have helped create dynamic Internet solutions for artists and small brands, including artist Ron English's Popaganda. I also head business development for Clutter Media Group, an independent print magazine publisher and product manufacturer, and have helped launch the Designer Toy Awards, an industry-wide awards ceremony for the Art Toy market.
Thanks for visiting – email me at jim [at] jamesvcrawford.com to keep in touch!